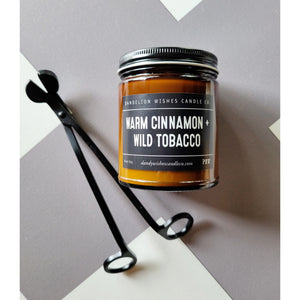 785 DECOR
9 oz. Amber Jar Candles DW
Regular price
$16.00
$0.00
Unit price
per
The Grown-Up version of our 4 oz. Amber Jar Candle. Amber glass and a black lid make a classic candle to fit into any decor and fill your room with a warm glow and beautiful fragrance for the season. Approximate burn time 40+ hours.
Made in United States of America
Banana Nut Bread: Sweet banana, warm cinnamon & nutmeg, and a hint of vanilla. Customer FAV!
Banoffee Pie: Sugary caramel and sweet banana with cream.
Bourbon + Butterscotch: Just like the name implies this is a blend of sweet and
rich butterscotch and mellow Kentucky Bourbon.
Caramel Tobacco: Masculine and mellow at the same time? Why not? This one
surprises most who venture to sniff and they love it! Sweet and earthy make a
great combo scent.
Coffee & Cream: Smooth blend cold brew coffee, sweet vanilla, and heavy cream make a mellow but satisfying scent.
Coffee Crumb Cake: A true blend of coffee and strudel sure to make everyone happy. 
Coffee House: Similar to our Coffee + Cream but with added notes of caramel to recreate walking into your favorite coffee shop.
Cozy Cashmere: Soft and warm with cedar and vanilla. 
Morning Brew: Strong notes of rich bold coffee blended with a dash of sweet caramel.
Night Cap: Notes of fresh coffee and bourbon make this a cozy and inviting scent for the season.
Saturday Morning Cartoons: Surprisingly delicious with lemon and orange citrus and cherry topped with vanilla. 
Specked Pear: Simple Bartlett pear and a touch of apple for luck. 
Sunset in Napa: This complex scent blends earthy greens, sweet citrus, warm grapes, and a hint of cream to bring it all together.
Sweater Weather: Cozy vibes with butter, vanilla, all-spice, and cream. A perfect cool weather scent!
Waffles & Pecans:  Sweet vanilla, earthy nutty pecans, and a hint of cream make up this cozy scent. 
Warm Cinnamon & Tobacco: Tobacco leaves and warm cinnamon are a perfect pairing. 
Woodwork & Plaid: A mix of masculine and clean with notes of Fraser Fir and clean lemon. BESTSELLER 
---