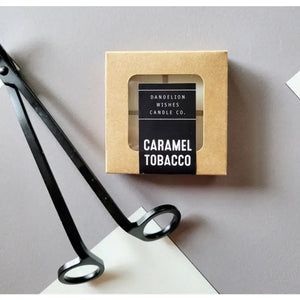 785 DECOR
4 Cube Pure Soy Dancy Dots Mini Melts
Regular price
$4.25
$0.00
Unit price
per
Our Dandy Dots Mini Melts are perfect for gift giving! 4 mini wax melt cubes in a kraft wrapped rectangle box with a classic black and white label.
Made in the USA
BOURBON + BUTTERSCOTCH: Just like the name implies this is a blend of sweet and rich butterscotch and mellow Kentucky Bourbon. A touch of vanilla rounds out this fantastic scent!
COFFEE HOUSE: 
FALL FESTIVAL: notes of caramel and crisp green apple blended to Fall perfection. 
HOT APPLE CIDER: Warm cinnamon, delicious red apples, and a touch of lemon for a perfect strong Fall scent. 
PUMPKIN CHEESECAKE: Strong pumpkin, cinnamon, butter, and a hint of cream. 
SWEATER WEATHER: Back by popular demand! Our Sweater Weather fragrance
has hints of rich vanilla, caramel, butter, and brown sugar to make a sweet and strong scent.
LEMON SUGAR COOKIE: True to its name Lemon Sugar Cookie has the perfect blend of sweet cookie and lemon citrus zest!
TOASTED SPICE: Simple but sophisticated and perfect for Fall.  All-spice, nutmeg, and cinnamon for warmth. 
---